:::
:::
Results and Characteristic Output of Promotion over the Years
Services and counseling provided by the Digital Opportunity Centers (DOC's) can be categorized into education, culture, society, and economy. DOC services and counseling include classes that correspond to different paths of development.
Education: Education is the foundation of the DOC, and it focuses on community volunteering and applied technology classes for local residents. In addition to holding classes in DOC classrooms, we are also creating DOC mobile classes to further distribute digital learning resources. In cooperation with the e-Learning Center, we encourage people to utilize our e-learning services. Another part of our plan involves our counseling team, who will provide licensing and certification classes according to local needs.
Culture: From field studies to interviews with the elderly, we have retraced the footsteps of the past where the DOC's are located, documenting their stories through antique crafts, traditional cuisine, folk religions, cultural history and more. To connect the needs of local cultures with current society, we have promoted digital archives, e-books, and classes on a variety of subjects, such as video production. By using unique characteristics and archived material to bring out the highlights of these cultures, then sharing our findings through the Internet, we have promoted both the culture of the locals and the mission of the DOC's.
Society: We have provided after-school childcare, as well as classes for people such as immigrants and the elderly, according to local and personal needs. Through the classes, we have aimed to introduce underprivileged groups to the Internet and technology, to help serve society. We have encouraged these people to voice their opinions on public affairs online and to increase their involvement with lifelong learning communities.
Economy: DOC advisors have sought to help develop local industries and provide classes such as social media management and online store setups that conform to local specialties and needs, in order to increase their online exposure and assist these businesses in digital advertising. In taking part in a variety of sales exhibitions and platforms, we have helped vendors to promote their local goods, such as specialized agricultural products and handmade crafts, and thereby increase their sales and profits.
(I) Educational Service Results
1. Luman DOC, Yunlin County
The Digital Opportunity Center of Luman (Luman DOC) was established in 2007. It focused on education as a key aspect of development. Its primary focus was on promoting basic education on information technology while the secondary focus was on providing educational programs to disadvantaged students, new immigrants, and senior citizens. Tutorial courses for obtaining level C computer software application technician licenses and mobile DOC licensing courses were launched. In 2016, mobile courses in nearby area were launched in cooperation with the Ministry of Education. Basic information technology courses were provided in 4 townships and 12 villages; in 2017, continuous efforts were made to promote mobile DOC courses. Classes were designed and organized for a variety of demographic groups, such as men, senior citizens, and families with young children.
2. DOC in Xiyu, Penghu: Typing out Dreams of the Ocean on a Keyboard
● Qingyang Wei, who began fishing when he was thirteen, is the captain of his ship, a master of fishing boat model, and an expert crafter of coin turtles. After taking DOC classes, Qingyang Wei also became a writer.
● While actively advocating for the Ministry of Education to come to Xihu, he is also the CEO of the DOC in Xihu, making it a point to personally attend every class and thus convince everyone of the advantages of computers. From typing with one finger to 70 characters per minute, he is proficient in both the pen and the brush.
● Passionate about handmade crafts, Qingyang Wei is able to create lifelike lucky coin turtles and money dragons. He takes pictures of his creations and writes about them on his blog, which has garnered online attention and even purchases from overseas.
● After two years of tireless revisions, he published "Bobbing around the Waters of the Harbors," where he talks about his thirty years of going out to sea. He emotionally declared, "Being able to learn how to use a computer at DOC and meet these comrades was the biggest key to finishing this book, so I thank everyone who has supported me along the way."
Old fisherman Qingyang Wei worked hard in his studies and became a writer
3. DOC in Fangshan, Pingtung: the Appeal of Digital Media Cross different Cultures
● Jinyan Nguyen was an immigrant resident student from Vietnam. She used the skills she acquired from the DOC to do computer-based paperwork for her fruit stand.
● She turned the crisis of an unverified news report into an opportunity, recording the growth of her mangoes and sharing this information through online communities. She was able turn the business into an online market, all while growing her own produce.
Jinyan Nguyen and her husband, Junqing Shen, utilized their knowledge and skills in digital media to boost sales of their mangoes.
4. DOC in Qishan, Kaohsiung
● Jinji Ke has been growing bananas in Qishan, Kaohsiung his whole life. He had owned a computer for almost 20 years, but he didn't dare to use it for fear of breaking it. In 2006, he began going to the Qishan DOC in Kaohsiung to learn how to use his computer. In his first lesson, it took him 3 hours just to learn how to turn a computer on and off; then, when it came to typing the three characters of his name, "Jinji Ke," it took him a full 6 hours to figure it out.
● In the October of 2011, he decided to acquire MOS (Microsoft Office Specialist) Official Certification, which would make him the oldest recipient to date. He passed the requirements to become a Microsoft Office Specialist for Microsoft Powerpoint two months later, and then for Microsoft Word in May of the following year.
Jinji Ke shared his experiences in getting certified and receives recognition for his efforts
5. DOC in Yanpu, Pingtung
● Qingli Zhong, who delivered papers for a living, was touched by the rich stories of Yanpu. Zhong knocked on the doors of the elderly and sought out their countless old records and photographs, which she then organized and published through a column she landed in Yanpu Residents' Monthly. In the blink of an eye, she became a newbie historian.
● After attending DOC in Yanpu's digital video media classes, where she started from the basics of shooting video to advanced post-production editing, she used Yanpu as the setting, and its locals as the cast. She stated, "Passion is the root for me making the videos, and my love for Yanpu is the nutrient for the stories I write."
● In 2013, she entered the video category in the Ministry of Education's DOC Digital Creations Competition, and after some fierce competition, she emerged with the gold medal. She has since become a teacher at the DOC. With a heart full of passion, she works to create a better learning environment for digital media, and helps realize the spirit and principle of incorporating technology into life.
(II) Cultural Service Results
1. DOC in Yilan
● Out of the five townships with DOC's in Yilan, 359 local residents voted to choose 92 walking trails and various stores and tourist attractions. All of these sights have been collected in the Yilan Trail Map. The map includes QR codes that people can scan for easy access to information on different destinations, and the information can change according to recent additions or modifications.
● DOC's counseling services continue to help develop short DOC trips. For example, there was the Yilan International Children's Folklore and Folk-Game Festival guided tour, which rejuvenated local industry with its own cultural capital (see picture).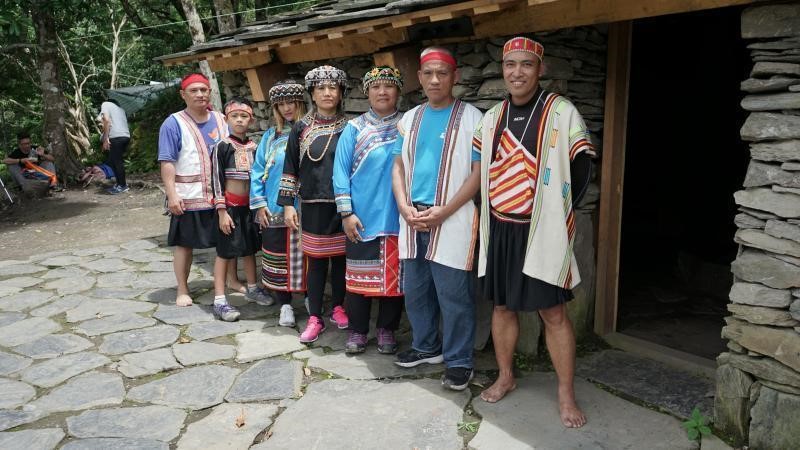 Yilan Trail Map 1st edition
Yilan Trail Map 2nd edition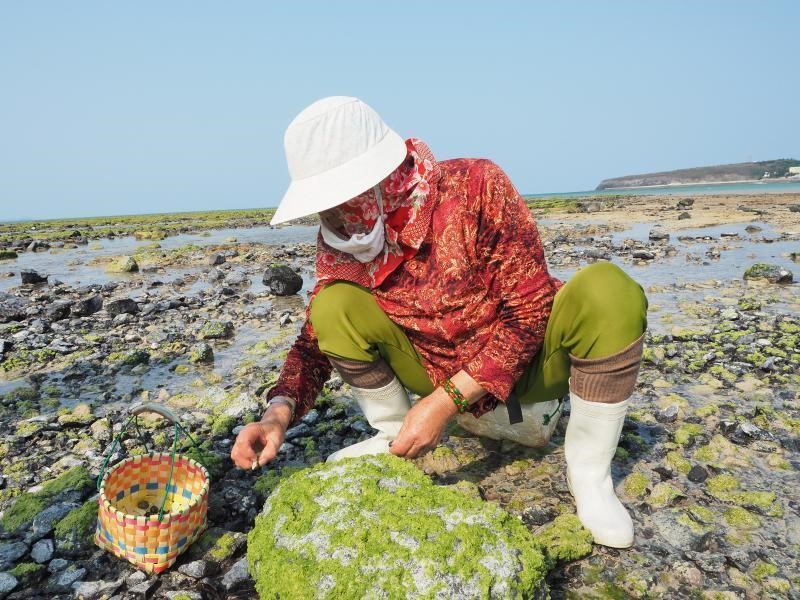 2. DOC in Jiangjun, Tainan
● Using seaside DOC tourist attractions, the DOC's for Tainan and Kaohsiung developed a boardgame using the coastal areas of Tainan as its theme: Binhai Monopoly. This year, they collaborated with the Department of Information Management at the Kun Shan University to develop the Binhai Monopoly app. Not only does this promote the seaside destinations of Tainan through the Internet, the app can also be utilized for educational purposes.
3. DOC in Tai'an, Hsinchu
● The stories "Making Man from Stone" and "Siliq, the Bird of Prophecy," accompanied by the traditional mouth harp music of the Atayal people, were made into a stop-motion puppet animation. Mouth harp master Duonai and sixth graders who played the roles of the grandchildren shot their parts outdoors, while the rest of the indoors scenes were shot with puppets.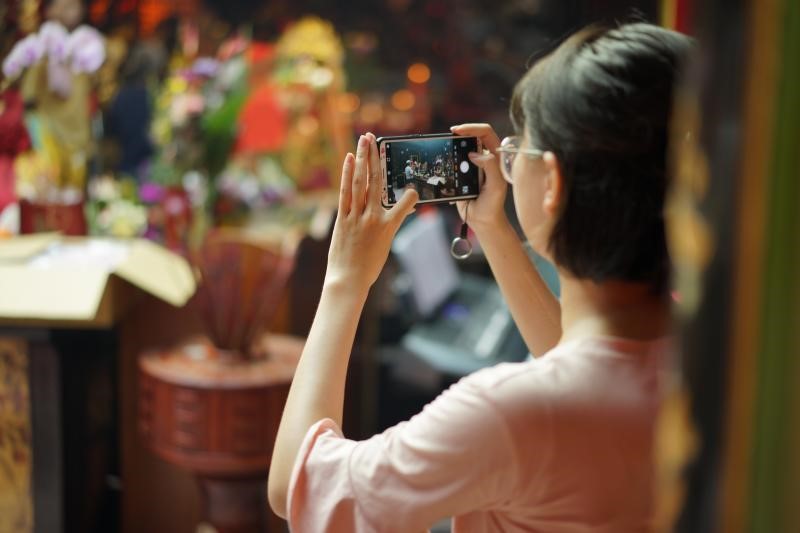 Playing the mouth harp
Behind the scenes of the puppet animation
4. DOC in Guanxi, Hsinchu
● The DOC in Guanxi hoped to promote a Ma'oto cultural journey by writing descriptions and creating traditional art books for destinations along the way, and by interviewing the elders of the tribe in order to gather the stories of Ma'oto. Using words and pictures from important destinations along the Luoma Highway, a Ma'oto cultural map and picture book were born.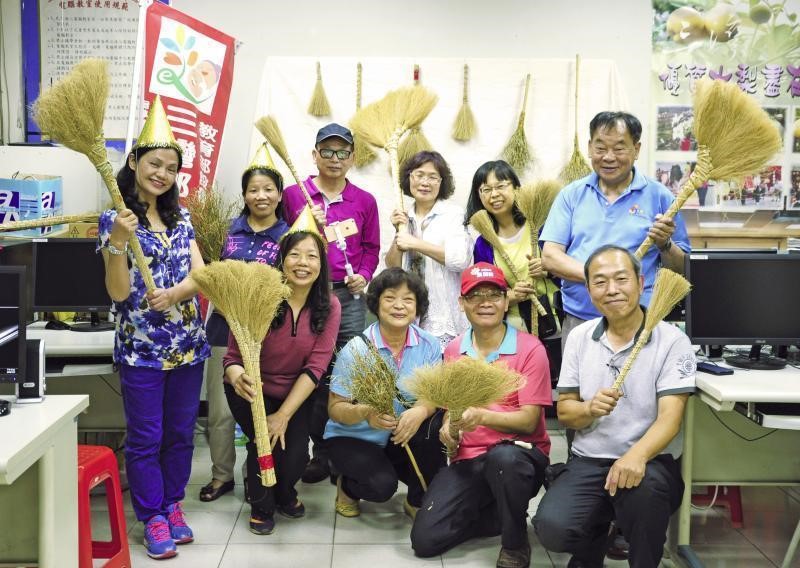 Map and picture book for the Ma'oto culture in Hsinchu
5. DOC in Qishan, Kaohsiung
● The century-old Qishan Elementary School was able to restore the school's Japanese style faculty dorms with financial aid from the Ministry of Education. Paired with DOC services, the old monuments stirred the community-wide developing of Qishan. Through its history and elective classes on local cultural promotion, the school was then recreated through a tablet presentation and create a digital escape room challenge game for it.
● On October 14th, 2016, Qishan Digital Story Salon was opened to the public. In it, a hundred years' worth of stories are retold by the school's tiny guides, using 3D models and paper cutouts, and introducing the ancient monuments of Qishan.
DOC staff and students take a picture with Kaohsiung's Secretary of Education Xunlu Fan
Qishan's Digital Story Salon opening event
6. DOC in Wufeng, Hsinchu
● The Wufeng DOC in Taoshan Elementary school shines with Atayal musical culture. Director and founding member Yuzhang Qian is extremely passionate about Atayal traditional culture, and has deep feelings about the gradual fading away of aboriginal culture. Thus, he has dedicated himself to learning the Atayal language and culture. He has collected many old Atayal melodies over the years, and has braved mountains through rain or storm just to record them.
● With the help of the staff and the students of the entire school, he was able to combine tradition with digital media in a number of ways. Media include classes on digital music creation, how to make traditional Atayal instruments and digital archiving; a virtual Atayal playwriting workshop; and The Legendary Journey of the Atayal folklore and music in a trilingual picture book. In 2013, the musical story album Skaru's Secret Language also won Taoshan Elementary School its second Golden Melody Award.
From passing down the old songs of a culture to two Golden Melody Awards
7. DOC in Taiwu, Pingtung
● Following the devastation of Typhoon Morakot, the DOC in Taiwu has made use of government and local resources to restoreitself in the shortest amount of time possible. As an advocate of sustainable development, and with a great deal of experience with the local elders and aboriginal people, the DOC has used digital media education to uncover unique branding for Taiwu.
● In spite of many inconveniences and difficulties, the principal of Taiwu Elementary School lead teachers to visit the homes of elders and aboriginal people. The principal sought permission from the remaining 10 elders of the Puleti tribe to gather their hand-prints and, through digital evolution, faithfully combine these patterns with traditional Chinese blue and white porcelain. Through this convergence of cultures, Taiwu's one-of-a-kind "Taiwu Handprint Porcelain" was born!
● With the power of the DOC, the township office began drawing up plans for the Taiwu Creative Market in 2010. In September, the Exhibition of Homegrown Culture and Creativity of Taiwu's Travelers was officially opened, providing backpackers and specialty teachers with a place to stay the night. Not only did this boost the learning of both the staff and the students, it pushed the tribe's tourism a step forward. By promoting a thought-provoking guided tour, they hope to attract even more people to Taiwu.
Cultural creativity born from the remains of a natural disaster
(III) Social Service Results
1. DOC in Tainan and Kaohsiung: Long Distance Pharmaceutical Inquiry Services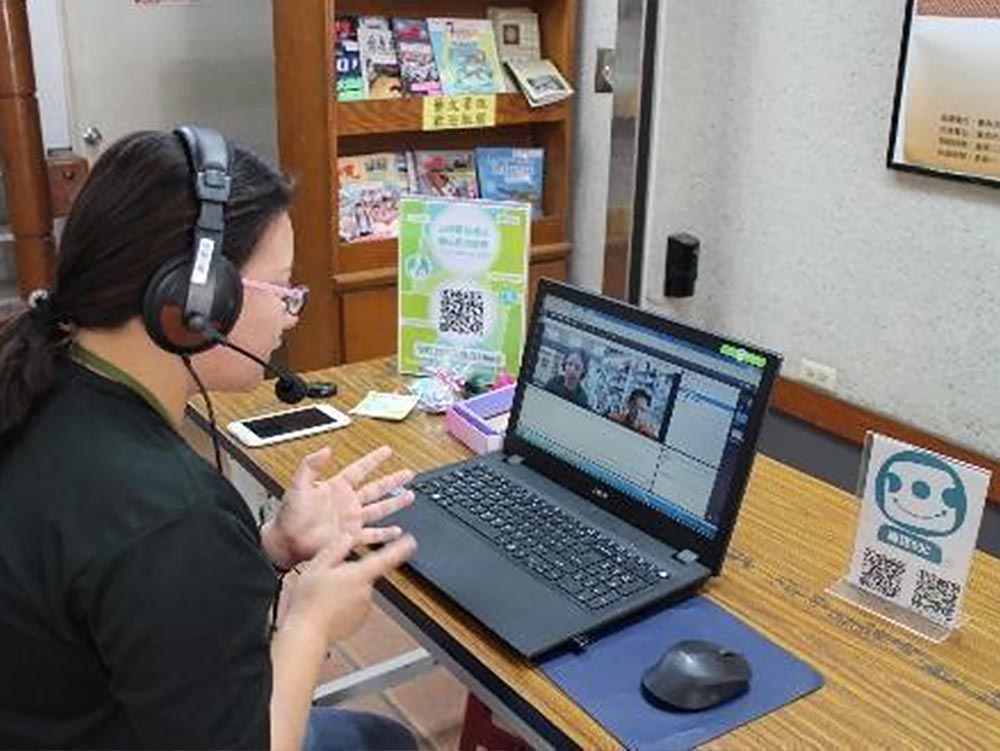 Long-distance lecture on health conducted by Chen Baohui, pharmacist from Tuyiquan Pharmacy in Annan District, Tainan City
● The consulting teams in Tainan and Kaohsiung collaborated with pharmacists in Tainan to provide weekly long-distance pharmaceutical inquiry services through the Internet. This includes simultaneous health talks, where DOC students can watch live presentations by doctors and ask the presenters questions such as long-distance drug safety consulting services and promos; reusable medicine bags and containers; and video calls with pharmacists to ask about drug safety, to help care for those living in rural areas.
Consultation in progress between staff from the Madou DOC, Tainan City, and pharmacist Lin from Renxing Pharmacy in Yongkang District, Tainan City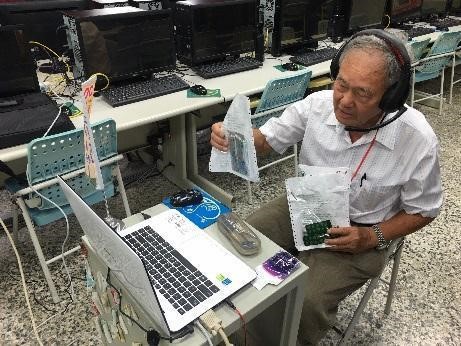 Long-distance online medication consultation in progress, conducted by Wu Jiansheng, pharmacist from Beian Pharmacy in Guiren District, Tainan City
Long-distance online medication consultation in progress with students from Meinong DOC, Kaohsiung City
2. DOC in Yilan and Hualien: A Cloud-sourced Blood Pressure Meter that Narrows the Healthcare Gap between the City and the Countryside
● The DOC in Hualien has joined forces with Wise Technology Company and Yangming University to promote healthcare equipment and techniques as well as a cloud-based blood pressure meter in Yilan's 14 DOC's. To make cloud-based healthcare equipment more accessible to the general public, the DOC has gone to Ministry of Health and Welfare long-distance stations to help the elderly of these communities. The DOC has stationed facilities there long-term, such as the collaboration between the DOC in Xiulin and Chongde Mobility Aid Store. The long-term facilities are readily available for students to use.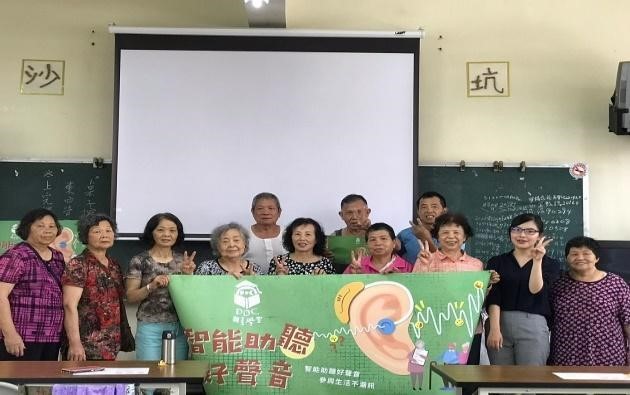 Cloud-sourced Health Donation Ceremony and Promotional Lectures
● Xiantang Lin, former director of the Taipei Department of Health, and Wise Technology Company have donated ten sets of cloud-based blood pressure meters for the benefit of those living in remote areas. They have also held many informational lectures, partnering with the DOC to share the latest developments in cloud-based technology with the community. Additionally, the Taiwan Association of University Professors has also donated 24 mobile electronic blood pressure machines, so that the DOC's can be more deeply involved in these communities and widen their scope of care.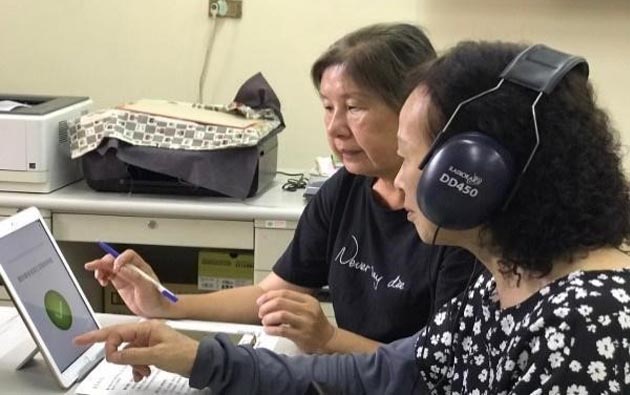 Health Cloud Educational Courses
Health Cloud Promotional Lectures
Proceeding to community care centers to assist students with blood pressure measuring
3. Maria Social Welfare Organization: Special Mentions
● The DOC counseling team of Yilan and Hualien help Jiali Elementary School, Beibin Elementary School, Beipu Elementary School, Beilin Elementary School, and Chunri Elementary School to propose charitable and creative courses of action such as "Reflector Guardian Angel," "Give Hermit Crabs a Home," "Healthy Cloud Buddies for the Grandparents," "Plays We Learned from Digital Media," and "Wild Lilies of the Community." The focus on charity supported by digital media applications makes it possible to reach out to the community, while using virtual intelligence(數位知能是什麼) to record these acts of goodwill. "Reflector Guardian Angel" won an honorary mention from the judges, and the resulting video documentary was submitted to the Senao Foundation's 2016 Countryside Documentary Competition.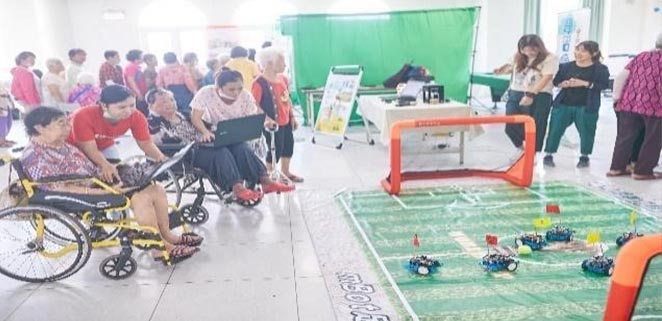 Students from Jiali Elementary School were invited to the Maria Social Welfare Foundation to receive their award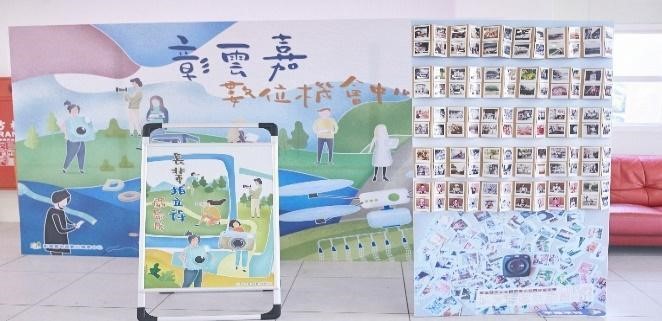 Jiali Elementary School's "Reflector Guardian Angel" received Honorary Mention from Maria Social Welfare Organization.
4. DOC in Yanchao, Kaohsiung
● Integrating the local agricultural specialty crop, guavas, we created a class called Online Guava Recipes from Immigrant Residents.
● Immigrant residents from Vietnam, Malaysia, and South America integrated Yanchao's locally grown guavas into their amazingly creative dishes.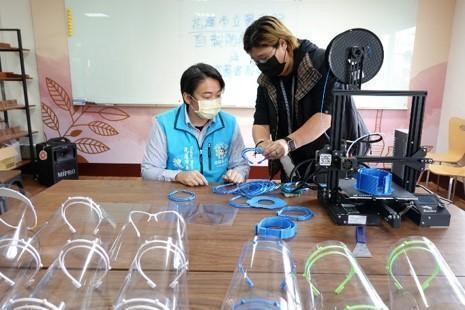 Display of immigrant residents' foods and traditional clothes
Wu Minghui, new immigrant instructor, teaches hard-pen calligraphy to new immigrant women
(IV) Economic Service Results
1. Specialties Marketing Center: Anybite, Anywhere
Anybite, Anywhere: Online storefront
● Anybite, Anywhere-- Featured products: From agricultural products and fresh food to specialty coffee, and Taiwanese grown chocolate, these small farmers and businesses know how to market themselves through Facebook, and keep records of their customers' information through communication software. Many farmers and vendors use a combination of online and physical storefronts to get their products out there. "Anybite, Anywhere" does collect, interview, take photography and market for remote areas, as well as grant specialty products another way of promoting themselves.
2. DOC in Yilan and Hualien: Fun and Zongzi All Summer-- Dragon Boat Festival Events
● For the Fun and Zongzi All Summer-- Dragon Boat Festival Events, the counseling team in Yilan and Hualien called for local industries and farmers to come up with a list of 112 specialty products; the list was made available for group purchases during the event to boost sales. This was the first time physical vendors were set up at Yilan County Government and Dong Hwa University. They advertised their sales through the Internet, Dong Hwa University and Yilan University bulletin boards, and the Facebook pages for the DOC's in Yilan and Hualien. The vendors invited local businesses and crafters to sell their products and offer DIY lessons, using the classes to build an understanding of how these agricultural products came to be. Inviting locals to attend strengthened their identification with DOC brands, boosted sales, and increased profits for all parties involved.
Dong Hwa University vendors
A zongzi-making competition co-hosted by the DOC in Shoufeng
3. DOC in Maliguang
● Starting from 2014, the consulting team in Hsinchu and Miaoli have already promoted many unique packaging designs and product stories. They have also helped DOC classes to utilize platforms such as the "Maliguang May Peaches" Facebook page to share the results of the local farmers' classes in package design. This has also helped the aboriginal people to market their industries.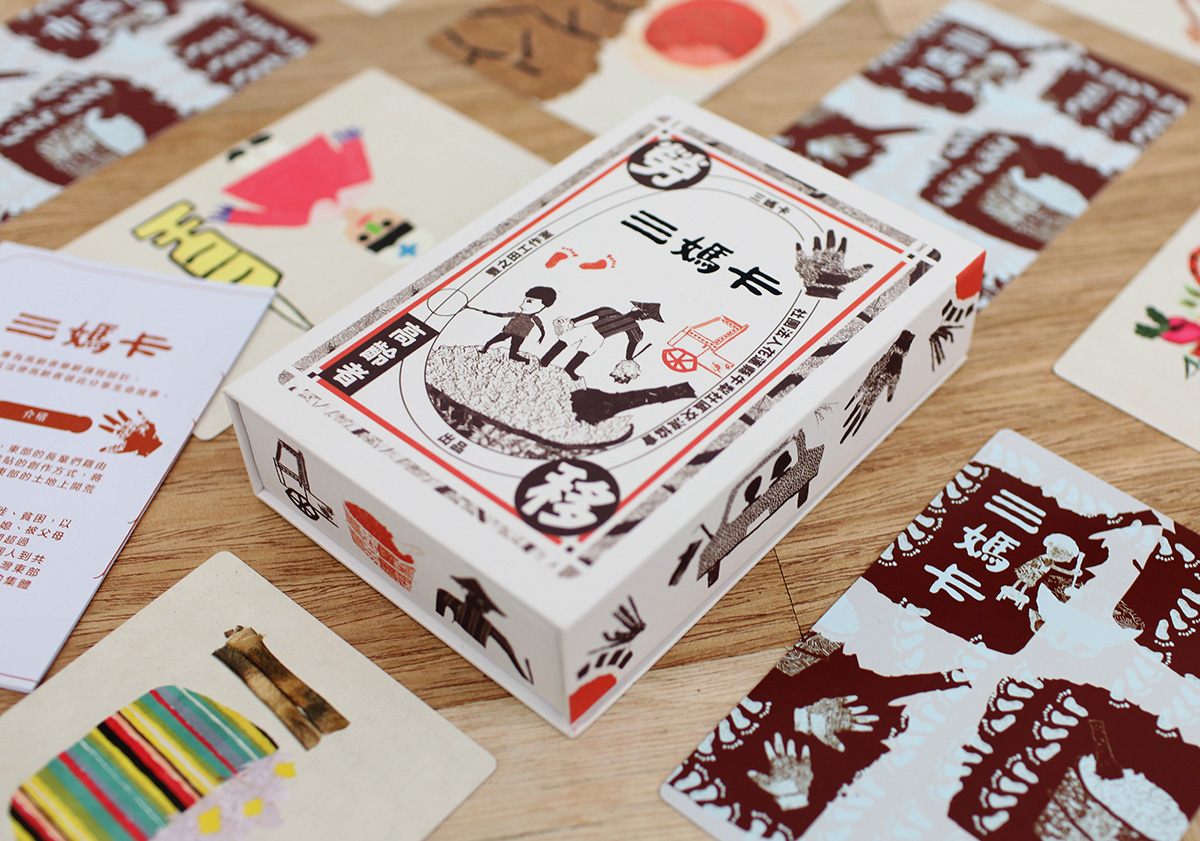 Group photos of participating students
● At the same time, the consulting team from BenQ organized employee group purchases of May peaches with the DOC. As our industries are closely linked, BenQ has become a friend we can count on, as we create opportunities for the DOC in Maliguang to become a central digital hub for their economy.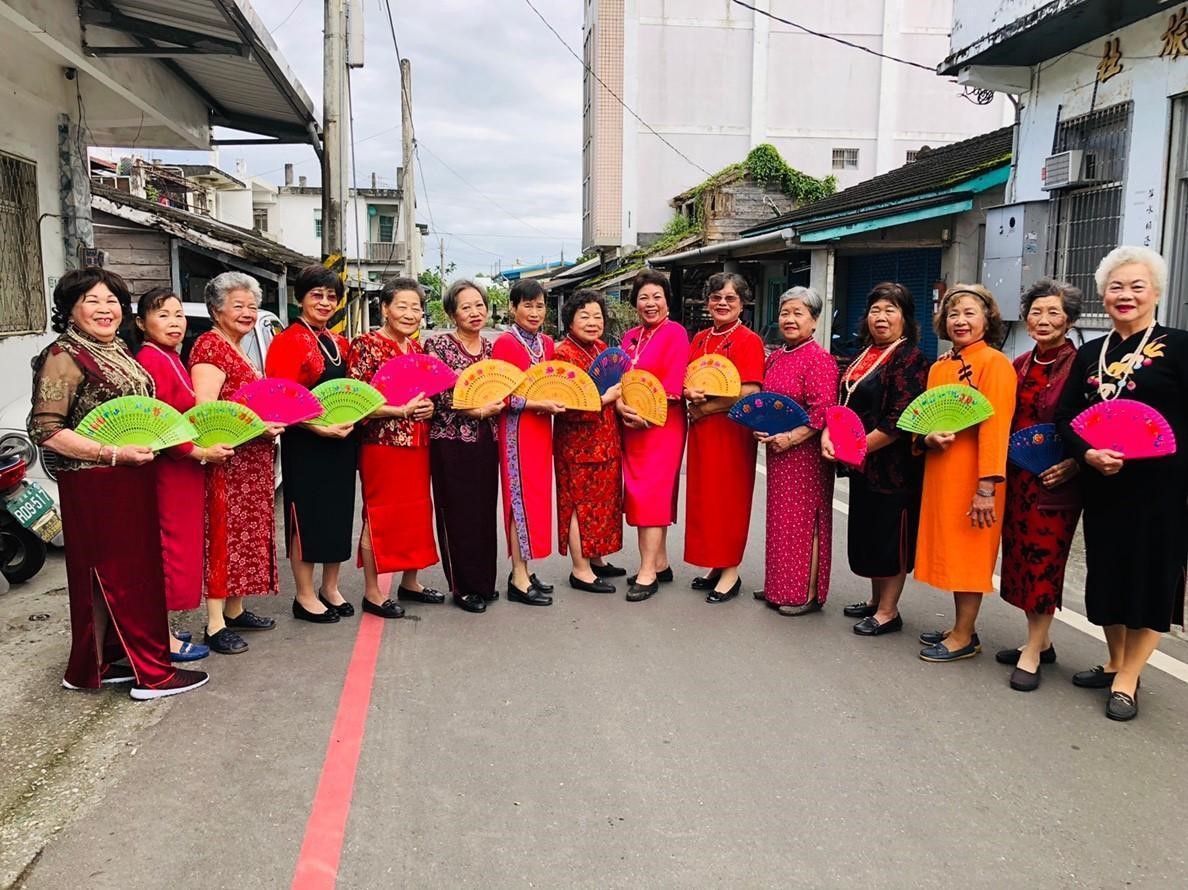 Maliguang May Peaches Facebook page
Employee purchase programs established in cooperation with corporate enterprises to increase exposure and expand sales channels
Online order form set up on Google Cloud
Organized DOC short film team
Shoot your own stories
Created small thank-you cards using digital design applications
4. DOC in Chenggong, Taitung
● In Chenggong, Taitung, there are people who have found their way back home, inheriting the ideals of their elders and going into aquaculture or processing. Starting from 2013, with the help of DOC e-commerce classes and online communities, many businesses were able to join together and thrive.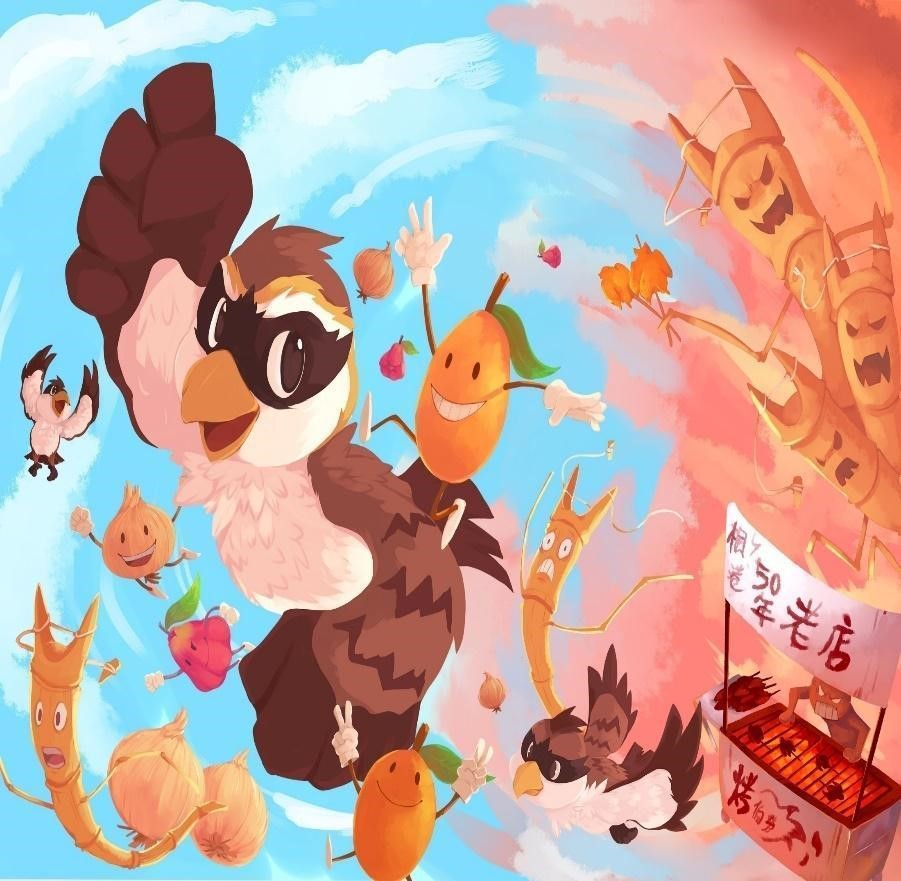 Taiwan's first DOC industry collective to align with small and medium enterprise
● From that second generation of people who went out in search of work in the early days, many of those who could not leave home spiritually elected to return and take up the family business. However, due to unforeseen circumstances, tourism took a crippling blow. Fortunately, the DOC marketing classes changed the way they ran their businesses, and due to a stroke of luck, they were able to apply for the Small and Medium Enterprise Administration's business collective program, and thanks to everyone's hard work, the program went smoothly. Thus, Chenggong's first virtual market, the Great Marketing Chengong site, came to be. They never missed a lesson, learning all that they could during class and practicing when classes were over. This allowed them to be selected as one of the long-term successes in the business collective program.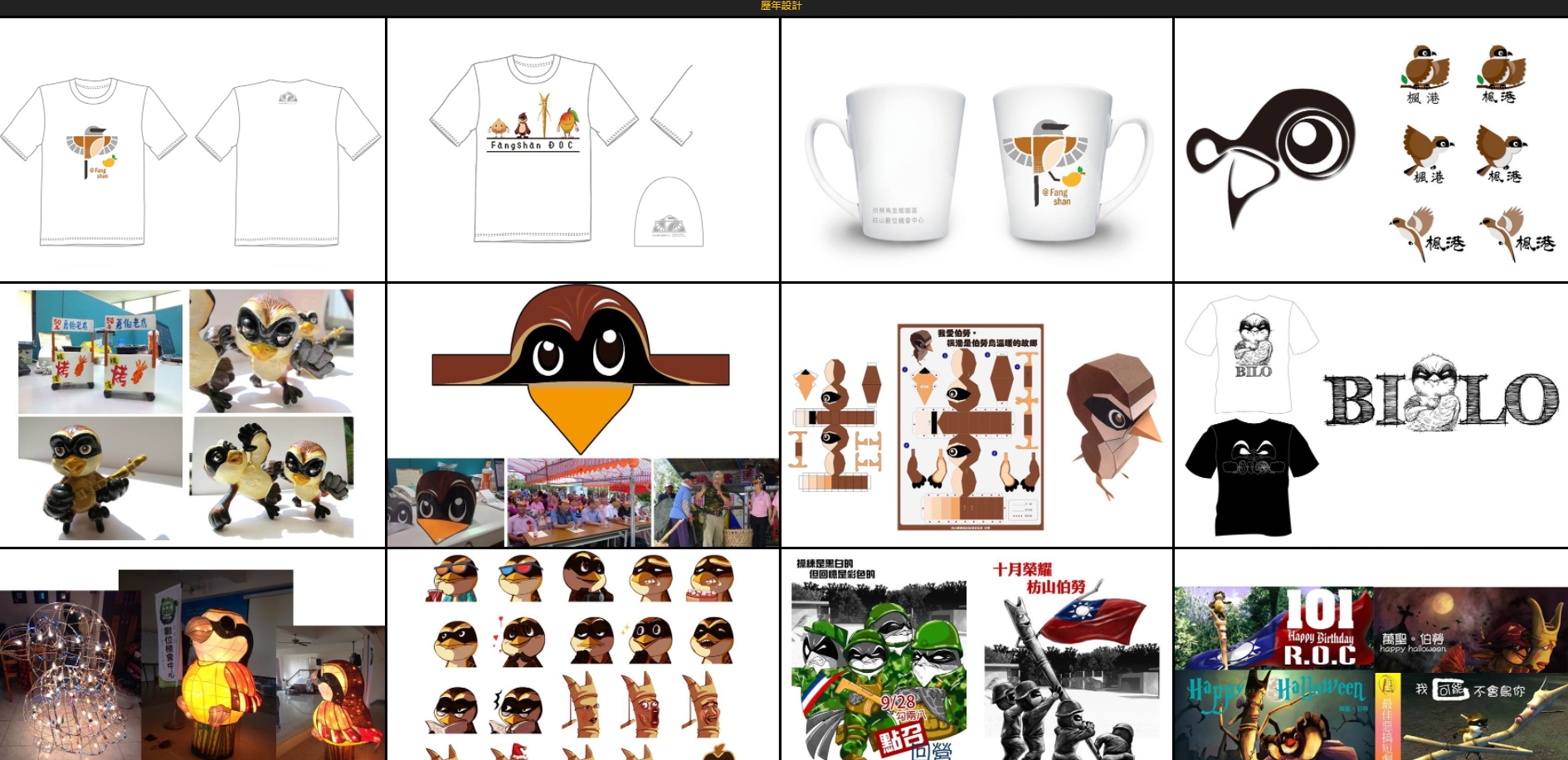 5. DOC in Fenglin, Hualien
● Zhong's Bacon is the most classic example of DOC guidance. Jinghua Zhong, who had inherited his father's culinary talents, did not start e-commerce classes until he was well over fifty. Starting over as a student with his reading glasses and entering the world of computers, he never thought that this venture into the digital realm would lead him into the Office of the President. Through the Ministry of Education's DOC website, the staff of the Office of the President purchased agricultural specialty products from remote areas as a souvenir for ex-president Ma. This was never expected by Mr. Zhong.
● The DOC in Fenglin's relationship with the township office is a good example of government departments actively taking part in the planning process. The Ministry of Education and the Labor Committee's project plan converted an old gambling hub into the Flower Cloth Workshop, a cultural base for Hakka mothers to sell their dyed goods from. They have since collaborated with five-star hotels, providing a selection of organically-dyed crafts for visitors from far and wide.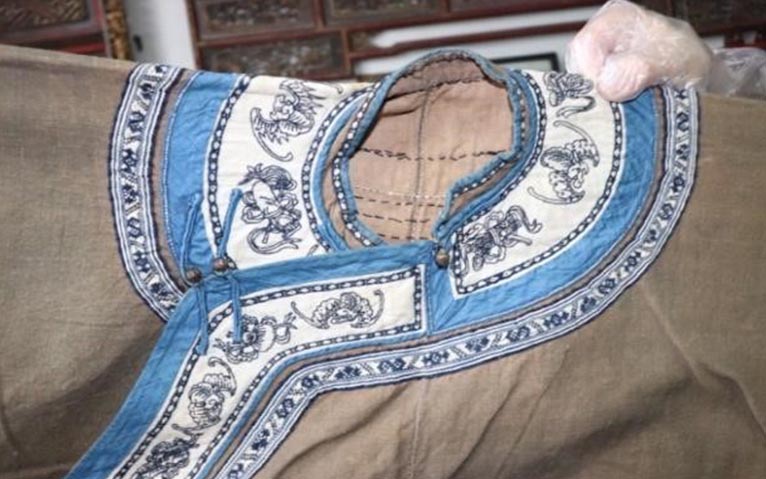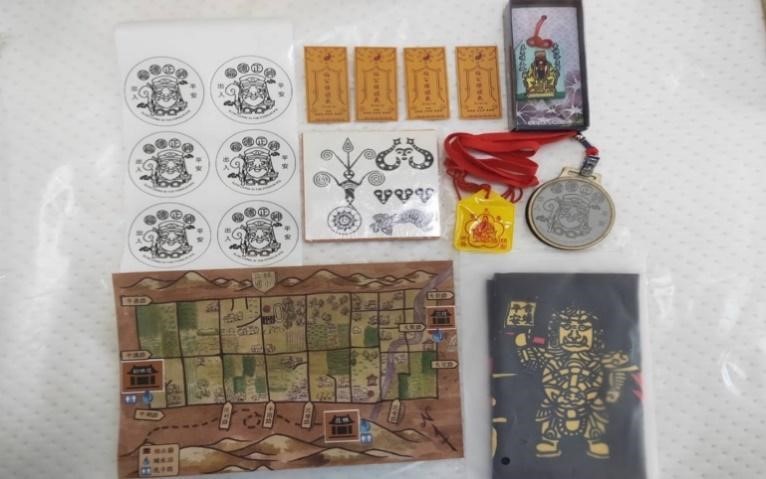 The self-made colors and industry of Fenglin
6. Heart of the City: E-Christmas Spirit and Digital Holidays Promotional Event
● On Christmas Eve and Christmas Day of 2016, the Heart of the City: E-Christmas Spirit and Digital Holidays event was held in the square at Chiang Kai-shek Memorial Hall. Specialty markets such as Appetizing Adventures, Local Taiwanese Cuisine, the World of Handcrafts, and DIY Workshops were planned, as were traditional performances such as the Hakka "Open-Mouthed Lion" and Flower Drummers. There were also many specialty products up for charity sale. At the brilliant Christmas party, new aboriginal singers were invited to sing the soul of the land and their love for their homes. The Yuanlin Dance Troupe also displayed the beauty of aboriginal culture. The diversity of the events and vendors paired with the heartwarming atmosphere of Christmas added meaning to the holidays, Taiwanese-style. Over the course of two days, sales totaled about NT1,500,000 dollars.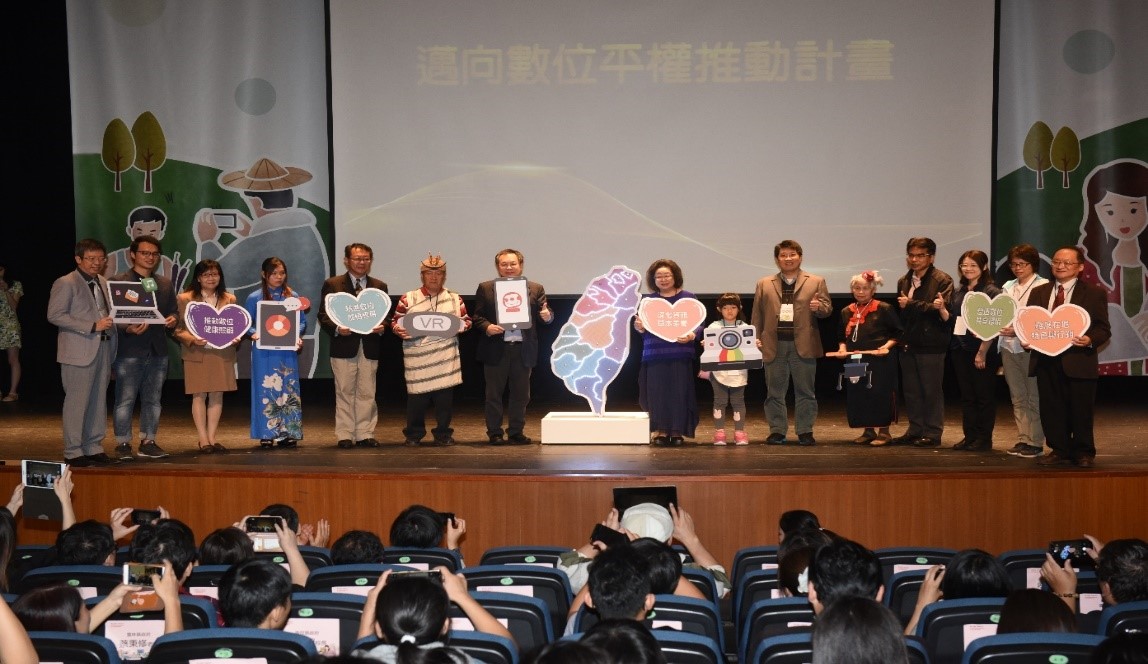 Deputy Minister Chen expresses his sincere gratitude to the performers from the Yunlin DOC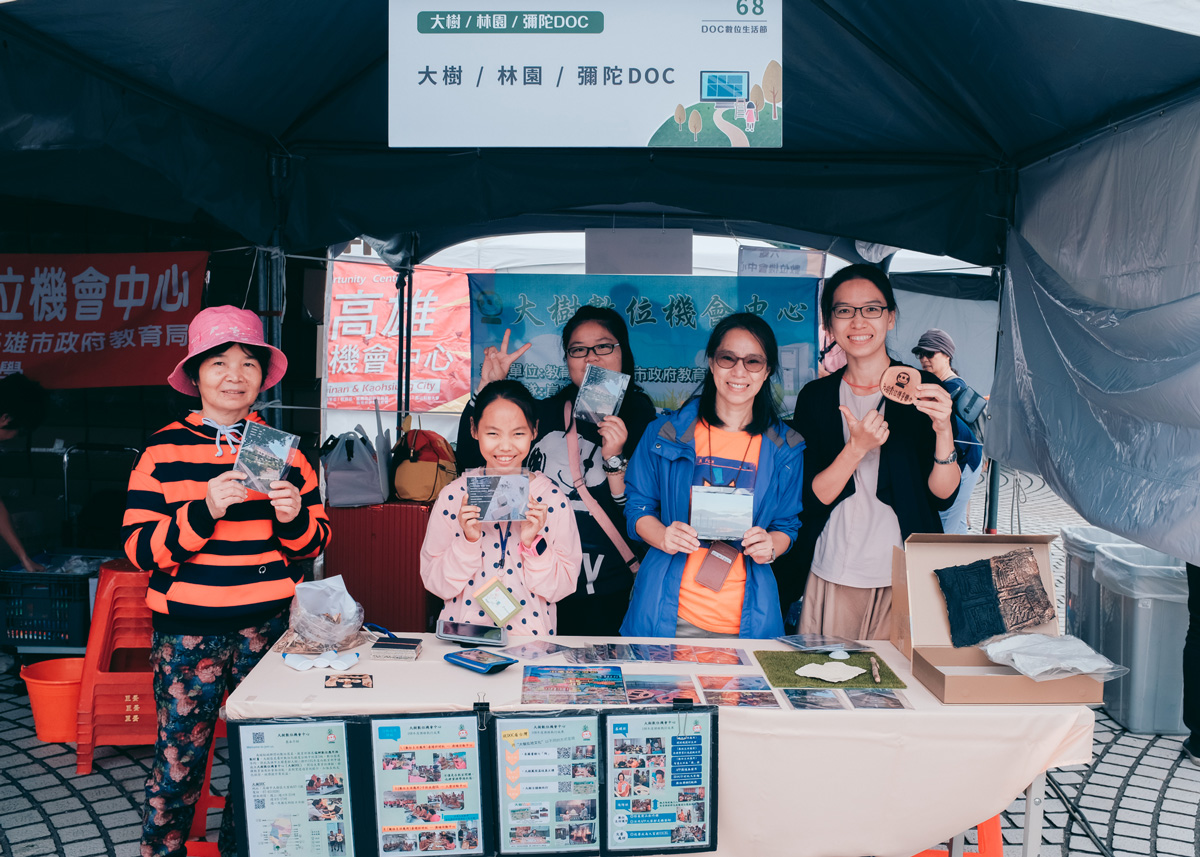 Technology volunteers assist with event sales
7. The theme of 2017 Achievements Exhibition is "creating e-life and loving the town". On both December 9th to 10th, the "DOC Digital Life Festival" was held in the National Academy of Arts Square. It showed the outcome of the overall project implementation. The awarding groups of film and creative application from "DOC Digital Application Creation Contest" and some spotlight cases about digital learning of local people and young students were also expressed in this festival. Xinmin War Drum Group from Nantou County, Zuozhen Zusun Bullfighting Troupe from Tainan, and others had live shows there.
The festival also invited DOC Talents to share their local cultures in the session of "Have Fun in DOC". Through DIY participations, like toy making, plant growing, square lion towel, and other local handicraft making. Not only had the variety of activities, this festival also invited the mobile-movie van of "3D Beautiful Taiwan Action" and let participants experience the 3D movies. Furthermore, the DOC staff's exhibition booths from different places, the participants can understand how local people combine digital technology and local materials to build representative local products, and make them involve practical life and regional economy. The amount of participants in this two day festival was more than 15,000.